Innocent Blood: The Order of the Sanguines Series (Mass Market)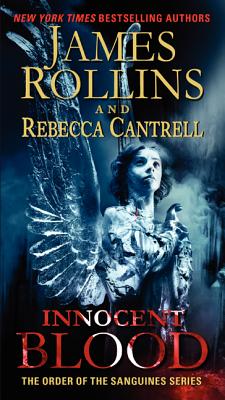 Description
---
In this riveting follow-up to The Blood Gospel, the first book in the thrilling and atmospheric Order of the Sanguine series, New York Times bestselling authors James Rollins and Rebecca Cantrell deliver a tale of international adventure, intrigue, suspense, and supernatural mystery involving a modern scientist, a highly secret eternal spiritual order, and a terrifying power who must join forces to bring down a ruthless and cunning enemy and prevent the Apocalypse.
While exploring a tomb hidden for centuries in the depths of Masada, Israel, brilliant archaeologist Erin Granger began an incredible journey to recover a miraculous ancient artifact tied to Christ himself. The quest introduced her to a diabolical enemy determined to discover the book and use its powers for his own dark ends. It also led her to an ancient and highly secret Vatican order—known simply as the Saguines. Though she survived, the danger has only just begun . . .
An attack outside Stanford University thrusts Erin back into the fold of the Sanguines. As the threat of Armageddon looms, she must unite with an ancient evil to halt the plans of a man determined to see the world end, a man known only as Iscariot.
About the Author
---
James Rollins is the author of international thrillers that have been translated into more than forty languages. His Sigma series has been lauded as one of the "top crowd pleasers" (New York Times) and one of the "hottest summer reads" (People magazine). In each novel, acclaimed for its originality, Rollins unveils unseen worlds, scientific breakthroughs, and historical secrets—and he does it all at breakneck speed and with stunning insight. He lives in the Sierra Nevada mountains.
New York Times bestselling thriller author Rebecca Cantrell's novels include the award-winning Hannah Vogel mystery series, the critically acclaimed YA novel iDrakula, which was nominated for the APPY award and listed on Booklist's Top 10 Horror Fiction for Youth, and The World Beneath, the first book in an exciting new series and the winner of an International Thriller Writer award. She, her husband, and son currently live in Berlin.
Praise For…
---
"A thriller of dark subterranean complexity, rather like a rare, vintage red wine."
— NY Journal of Books

"A combination of religious conspiracy and another popular genre, and to reveal more about the concept behind this engaging novel would be a crime."
— Washington Post on THE BLOOD GOSPEL

"There's a touch of genius... in pairing a Dan Brown–ian hidden-codex mystery with a vampire tale. Let that suffice lest spoilers ruin the fun, except to say that the blood of the title is no accident."
— Kirkus on INNOCENT BLOOD

"[A]nother darkly hypnotic hybrid, and supremely effective, horror-thriller… A harrowing tale that's truly epic in scope. Not to be missed."
— Providence Journal on INNOCENT BLOOD

"[C]aptures the imagination and leaves the reader panting in anticipation for the next adventure."
— New York Journal of Books on INNOCENT BLOOD

"[An] intense and shocking thriller…filled with history, espionage, love, revenge, and the power of forgiveness."
— Library Journal on INNOCENT BLOOD