Telaraña de Carlota: A Newbery Honor Award Winner (Paperback)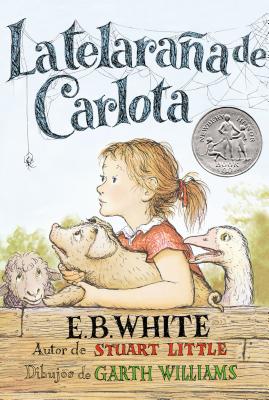 List Price: $8.99
Our Price: $7.99
(Save: $1.00 11%)
Description
---
This high-quality Spanish-language book can be enjoyed by fluent Spanish speakers as well as those learning the language, whether at home or in a classroom.
Este querido libro de E. B. White, autor de Stuart Little y La trompeta del cisne, es un clásico de la literatura infantil.
Un cerdito. Humilde. Radiante. Estas son las palabras en La telaraña de Carlota, en lo alto del establo Zuckerman. Charlotte narra sus sentimientos por un cerdito llamado Wilbur, que simplemente quiere un amigo. Asimismo, expresa el amor de una niña llamada Fern, que salvó la vida de Wilbur cuando nació.
Este libro ganador galardonada con el Newbery Honor es una tierna novela de amistad, amor, vida y muerte que permanecerá por generaciones venideras. Contiene ilustraciones de Garth Williams, el aclamado ilustrador de Stuart Little, entre otros muchos libros.
About the Author
---
E. B. White, the author of such beloved classics as Charlotte's Web, Stuart Little, and The Trumpet of the Swan, was born in Mount Vernon, New York. He graduated from Cornell University in 1921 and, five or six years later, joined the staff of The New Yorker magazine, then in its infancy. He died on October 1, 1985, and was survived by his son and three grandchildren.
Mr. White's essays have appeared in Harper's magazine, and some of his other books are: One Man's Meat, The Second Tree from the Corner, Letters of E. B. White, Essays of E. B. White, and Poems and Sketches of E. B. White. He won countless awards, including the 1971 National Medal for Literature and the Laura Ingalls Wilder Award, which commended him for making a "substantial and lasting contribution to literature for children."
During his lifetime, many young readers asked Mr. White if his stories were true. In a letter written to be sent to his fans, he answered, "No, they are imaginary tales . . . But real life is only one kind of life—there is also the life of the imagination."
Garth Williams is the renowned illustrator of almost one hundred books for children, including the beloved Stuart Little by E. B. White, Bedtime for Frances by Russell Hoban, and the Little House series by Laura Ingalls Wilder.
He was born in 1912 in New York City but raised in England. He founded an art school near London and served with the British Red Cross Civilian Defense during World War II. Williams worked as a portrait sculptor, art director, and magazine artist before doing his first book Stuart Little, thus beginning a long and lustrous career illustrating some of the best known children's books.
In addition to illustrating works by White and Wilder, he also illustrated George Selden's The Cricket in Times Square and its sequels (Farrar Straus Giroux). He created the character and pictures for the first book in the Frances series by Russell Hoban (HarperCollins) and the first books in the Miss Bianca series by Margery Sharp (Little, Brown). He collaborated with Margaret Wise Brown on her Little Golden Books titles Home for a Bunny and Little Fur Family, among others, and with Jack Prelutsky on two poetry collections published by Greenwillow: Ride a Purple Pelican and Beneath a Blue Umbrella. He also wrote and illustrated seven books on his own, including Baby Farm Animals (Little Golden Books) and The Rabbits' Wedding (HarperCollins).