Capt. Hook: The Adventures of a Notorious Youth (Paperback)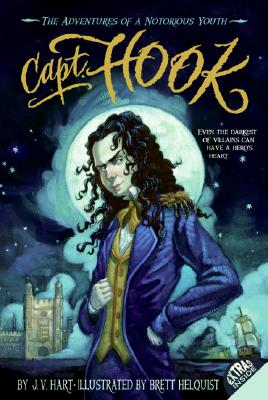 Email or call for price.
Not Available at This Time
Description
---
With his long black curls, a shadowy family tree, and an affinity for pet spiders, James Matthew bears little resemblance to his starched-collar, blue-blooded peers at Eton. Dubbed King Jas., he stops at nothing to become the most notorious underclassman in the prestigious school's history. For James, sword fighting, falling in love with an Ottoman Sultana, and challenging the Queen of England are all in a day's skullduggery. But when he sets sail on a ship with a mysterious mission, King Jas.' dream of discovering a magical island quickly turns into an unimaginable nightmare.
Screenwriter J. V. Hart traces the evolution of J. M. Barrie's classic villain from an eccentric outcast to the scourge of Neverland.
About the Author
---
J.V. Hart has written the screenplays for several feature films, including Bram Stoker's
Dracula
,
Hook
,
Tuck Everlasting
,
Contact
and
Muppet Treasure Island
. He lives in New York with his wife. His son and daughter are both writers and directors in theater and film.
Capt. Hook
is his first novel. In the spirit of the Peter Pan charitable legacy, a portion of the author's royalties will go to the Peter Pan Children's Fund, an organization that supports children's hospitals through philanthropy programs.
Brett Helquist's celebrated art has graced books from the charming Bedtime for Bear, which he also wrote, to the New York Times–bestselling A Series of Unfortunate Events by Lemony Snicket to the glorious picture book adaptation of Charles Dickens's A Christmas Carol. He lives with his family in Brooklyn, New York.