I Wish I Knew This Earlier (Paperback)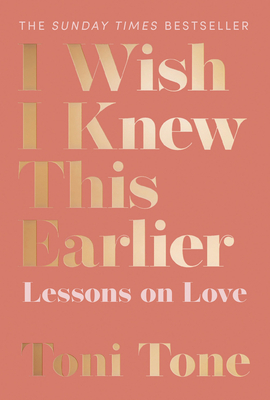 $10.99

Coming Soon - Available for Pre-Order Now
Description
---
Relationships can be tricky and break-ups can be devastating. Many of us learn lessons in hindsight, but this often comes with making some mistakes. In this book, speaker and writer Toni Tone shares brilliant advice and illumining wisdom to help you avoid these mistakes and improve the way you navigate dating, love, and heartbreak.
A few years before writing this book, Toni walked away from a long-term relationship. When this relationship broke down - and as many of us will know - it encouraged Toni to go through a huge range of challenging emotions, and reflect on all her past relationship experiences - including what shaped her, what she learned from others, things she did well and things she could have done differently.

This experience ended up being the best thing that could have happened to her. It led her to learn more about herself than ever before and allowed her to navigate relationships more effectively going forward. Most crucially, it changed her outlook on life and she channelled this energy into her creativity by helping people understand their worth and avoid common relationship mistakes.

I Wish I Knew This Earlier is the perfect gift - the ideal handbook told in Toni's distinctively relatable and thoughtful style, that will speak to anyone who has ever struggled through dating, experienced love, and been through (or is going through) heartbreak.
About the Author
---
Toni is an award-winning speaker, writer and social content creator. She is best known for her writing on Twitter, which averages over 40 million impressions a month and her eye-opening and insightful tweets have been featured in publications such as The Independent, Elle, Cosmopolitan and many more. She is also the hodst of her own podcast Money Moves with Toni Tone on Radio 1 Xtra. Toni is also the first ever ambassador for the charity Young Women's Trust. This is her first book.