Taken (Paperback)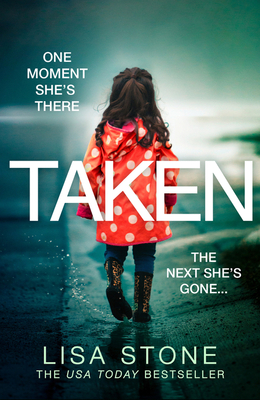 Description
---
The gripping new
USA Today
bestselling thriller from Lisa StoneHave you seen Leila?
8-year-old Leila Smith has seen and heard things that no child should ever have to. On the Hawthorn Estate, where she lives, she often stays out after dark to avoid going home.
But what Leila doesn't know is that someone has been watching her in the playground. One day, she disappears without a trace...
The police start a nationwide search but it's as if Leila has vanished into thin air. Who kidnapped her? What do they want? Will she return home safely or is she lost forever?
A thriller with a difference
What readers are saying about Lisa Stone
'Couldn't put it down, it was so addictive '
'I was so hooked on this book I was up all night reading it into the next day'
'The written style keeps the reader enthralled'
'If you like a book that keeps you on the edge of your seat from start to finish this book is for you'
'This is a cracking good read that had me hooked from the beginning until the end'
'Fantastic book, couldn't turn the pages quickly enough '
'A well-written and extremely addictive novel that will stick in your head long after putting it down'
About the Author
---
"As a writer of suspense thrillers I often ask myself what if? What if this happened instead of that? Or why a particular person reacted as they did. So often fact is stranger than fiction; these books start with a fact which I develop." Lisa Stone lives in England, has 3 children, and has 36 books published under the pseudonym Cathy Glass, many of which have become best-sellers. This is her fourth Lisa Stone thriller.