Best books for big siblings
Submitted by

readingbug

on Sun, 07/05/2015 - 4:41pm
We wanted to share one of our most popular sections at The Reading Bug...books for big sisters and and big brothers. Whether you are expecting another baby or already have one, there are some great resources that are fun and entertaining for the whole family! Those marked with an asterisk include specific circumstances such as dealing with jealousy, single-parent homes and premature babies.

Snuggle the Baby by Sara Gillingham is a lift the flap board book that is ideal for young big siblings. The book has a moving parts on every two page spread so that big brother or sister can interact with it as mom or dad reads about all the things that baby likes to do. Note that the baby cut-out from the next to last page should be taken out so that it can be tucked in under the blanket on the last page of the book. Ages 1 to 3 (Abrams).

You're Getting a Baby Sister by Sheila Sweeny Higginson is a delightful rhyming board book that will help prepare young big siblings for a new baby sister. The illustrations by Sam Williams are multicultural and adorable, as Higginson warns, "before you start cheering, there are a few things you should know." Among other things, "Your sister will drool. She will smell. She will scream. She might pull your hair. She'll do things that seem mean." She needs lots of help, you see, because "She's not smart yet like you." The last page of the book has a place where mom and dad can paste a photo of baby sister and big sib. Higginson also is the author of You're Getting a Baby Brother. Ages 1 to 3 (Simon and Schuster).

A New Chick for Chickies by Janee Trasler is a fun board book for young big siblings. Three chickens are dancing and living the good life until one day when "craaack. . . ," chickies got a brother. Soon they recover and realize that with four chickies they can have a conga line, .a beach ball team, and a five piece band. Life is perfect once again until one day, "craaack . . . ," chickies got another brother, and another, and another and another! Oh brother! The book is set to music, which can be accessed at www.chickiesbooks.com. Ages 1 to 3 (Harper Collins).
Best-Ever Big Sister and Best-Ever Big Brother by Karen Katz are fun books for very small big siblings. Delightfully illustrated, lift-the-flap books. They are perfect for big sisters or brothers, ages 1 to 3 (Grosset & Dunlap).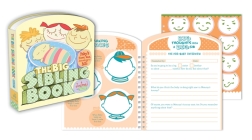 The Big Sibling Book is a journal by Amy Krouse Rosenthal to help your firstborn get psyched about becoming a big sibling! Organized chronologically, this journal is designed to help prepare your child for the new arrival with interviews, sticker activities, and pages for recording Baby's first. The end result is a precious two-in-one keepsake that captures Baby's first year and the unique perspective of the new big kid in the family. A great activity book for big siblings, ages 2 to 6 (with a little help from their parents) (Random House).

What Sisters Do Best/What Brothers Do Best by Laura Numeroff. This is a wonderful flip book by a renowned author-illustrator team that celebrates all the wonderful things that brothers and sisters can do together. After reading what sisters do best, you can flip the book over and enjoy the story from the brother's perspective! This is a fun follow-up to the best selling What Mommies Do Best/What Daddies Do Best and What Grandmas Do Best/What Grandpas Do Best. Ages 2 to 5 (Chronicle Books).

One of my favorite new sibling books is Little Frog's Tadpole Trouble: Becoming a Big Brother is Hard, by Tatyana Feeney, the author and illustrator of Small Bunny's New Blanket. This book deals with the ambivalence experienced by all older siblings. Little Frog is happy with this family of three, and he is concerned when his mommy and daddy tell him he is going to be a big brother to nine baby tadpoles. After they are born, Little Frog is not impressed—the babies can't do anything and they take up all his parents' time. Soon, however, they grow up and become Little Frog's nine new playmates. The text is simple, but the endearing, childlike art work, consisting of images drawn in pencil with black, red and green, make this book special. Ages 2 to 5 (Alfred A. Knopf).

In Olive Marshmallow by Katie Saunders, Archie isn't sure why his mom's tummy keeps getting bigger and bigger, or why his house is suddenly full of fluffy, frilly, very pink things, until one day Mommy shows Archie a strange picture and tells him that it is his baby sister growing in Mommy's tummy. Archie isn't sure he wants a baby sister, but one night Mommy tells him that she is going to the hospital for a sleepover. When Mommy returns, she introduces him to Olive, his baby sister, an Archie exclaims that she looks like a marshmallow. Pretty quickly Archie decides that life with Olive Marshmallow is lots of fun. Then one day, Archie and Olive notice something different about Mom . . . ! Saunders' cartoon-style, pink and blue illustrations of Archie, Olive, and Mommy's tummy are delightful! This is a great book for a new baby to give her big brother or sister. Olive Marsh also a fun book for 2 siblings who are about to have a third. Ages 2 to 6. (Little Bee Books).

*There's Going to Be a Baby is a collaboration between the award winning author, John Burroughs, and his wife, illustrator Helen Oxenbury. The book begins in the winter, when a mother tells her little boy that there's going to be a baby. On the pages that follow, the boy and his mother continue to discuss the baby as they engage in everyday activities like having lunch, taking a bath, and going to the bank. The boy's emotions range from concern ("it will make a terrible mess") to excitement ("when the baby grows bigger, it can play with me"), sprinkled with a dash of denial ("we don't really need the baby, do we?"). Mom is always a comforting presence, as they imagine what the baby will be when it grows up. Each musing about the baby's future is followed by a two page spread with eight cartoon panels depicting a baby chef, gardener, banker, etc. The art is colorful, whimsical and sweet. The book ends happily when the boy and his grandfather ride the bus to visit their new baby. *Although the book should not be limited to single-parent families, the father is not present in the story, which would also make it a perfect book for a single mother. Ages 2 to 5 (Candlewick Press).

Wolfie the Bunny is an adorable book by Ame Dyckman. One day the Bunny family finds a bundle outside their door. When they take a look they see a baby wolf, but Mama and Papa are immediately smitten. Little Dot is the only one who sees the truth: "He's going to eat us all up!" Dot continues to warn her parents, but they do not listen, even as Wolfie gets bigger and bigger. One day Dot takes Wolfie to the Carrot Patch. When the bear grabs Wolfie, it is Dot's chance to run away, but she doesn't. Instead, she demands that the bear let Wolfie go or, she warns, "I'll eat you all up!" When the bear runs away, Wolfie pounces—to give her a big hug—and Dot takes her baby brother home. Zachariah OHora's childlike art is colorful and humorous—Papa and Mama are dressed in cardigans and argyle, while Wolfie wears a pink bunny suit. Wolfie received a starred review from Publishers Weekly. Ages 2 to 6 (Little Brown).

Once Upon a Baby Brother by Sarah Sullivan is a great choice for an older big sibling. Lizzie loves to make up stories and her mother and father loved to hear them—until her annoying baby brother, Marvin, joined the family. Luckily, Lizzie's teacher loves stories too, and Lizzie writes her stories every day with her Princess Merriwether pen, until one day when her mother takes Marvin to visit Gramma. Although Lizzie is excited to start writing without that pesky little boy around, she can't seem to think of a single idea for her next book. It's only when Marving returns that Lizzie realizes that Marvin's antics are what inspire her stories, her writing block is over, and Lizzie gives Marvin a big hug. Ages 5 to 8, Farrar Straus Giroux).

*The Baby Tree by Sophie Blackall ask the question that every sibling will ask at some point—"where do babies come from?" After mom and dad tell their little boy that they a baby is coming, he asks his babysitter, his teacher, his grandpa, and the postman where babies come from and he gets very different answers from each of them (Blackall's illustrations of what the boy imagines as he hears each of their answers are priceless). He is very confused, so he finally asks his parents, who give him a very simple, but truthful answer. There is an afternote at the end of the book that includes suggestions for answering some of the other questions that a child may ask. The ink and watercolor illustrations in this book are wonderful, and I love that they are also multi-racial. Ages 4 to 8 (Nancy Paulsen Books, Penguin Young Readers).

Maple & Willow Together by Lori Nichols is the second book in this series (Maple is the first where a little girl, Maple, takes care of a tree in preparation for caring for her baby sister). Maple and Willow are sisters who do everything together. Willow is almost always willing to follow big sister Maple. One day, however, Maple wants to collect dandelions but Willow wants to blow them to the wind. Their disagreement reaches a peak when Willow breaks Maple's toy and Maple pushes Willow. The girls are separated and sent to their own rooms, but after a while the girls miss each other and decide to "meet halfway"—literally and figuratively. They apologize to each other in the hallway between their rooms. The notable absence of parents in the illustrations highlights that siblings need to figure out things on their own..Ages 3 to 5 (Nancy Paulsen Books, Penguin Young Readers Group).

How to be a Baby by Me, the Big Sister by Sally Lloyd-Jones and Sue Heap. This book, written by the big sister, is one of my favorite big sibling books. Big sister knows a lot about babies, like (1) babies don't read books, they eat them, (2) babies don't carry backpacks, they go in them; and (3) babies don't have any teeth at all! But when her baby grows up, she'll be taller and smarter and big sister will be baby's best friend! The book has wonderful illustrations and is fun (and funny) to read. Ages 2 to 5 (Schwartz & Wade Books).

A Baby Sister for Frances is a really sweet book about a new baby written by the author of Bread and Jam for Frances. When the new baby arrives, no one pays much attention to Frances anymore—at least that's what Frances thinks. So Frances decides to run away—just far enough so she can hear how much she'll be missed. This is another wonderful story about this well-loved family of badgers. Ages 4 to 8 (Harper Trophy).

Little Miss, Big Sis by Amy Krouse Rosenthal will be a family favorite. Clever and funny for mom & dad and big sister, this book has simple text to convey what it's like to watch a baby grow (fuss, drool, eat, sleep) and turn into a little person. By the end, big sister realizes, that boring babies grow into great friends!

*The Very Tiny Baby was written by Sylvie Kantorovitz, who was threee years old when her brother was born much too early. The faux-naif drawings laid out like snapshots in an album, and the book is narrated by big brother Jacob in a typeface that emulates a child's handwriting. The book includes all of the feelings that a big sibling will experience if her baby is born prematurely. Just as Jacob is getting used to the idea of a baby, daddy takes mommy to the hospital. The book then describes how Jacob feels while his parents and grandparents are worried about the baby and how he feels when they tell him the baby will be okay. *It describes what it's like to visit a preemie in the hospital, from handwashing and wearing a gown, to the incubator where the baby sleeps and the nurses who help take care of him. But Jacob still feels lonely and angry because everyone is focused on the baby. The book ends happily when his parents bring the baby home, and Jacob finally gets to welcome his tiny baby to the family. Ages 2 to 7 (Charlesbridge).

I'm a Big Sister and I'm a Big Brother by Joanna Cole are good small books for small big siblings that provides some information about babies and reassurance that busy new parents still will have time for the big sibling. Each book ends with a note to parents about how to help their older child adjust to his or her new role. Ages 2 to 5 (HarperCollins).
Image: