Season 7 - Episodes 1 & 2 - An Amazon Adventure
An Amazon Adventure
An Amazon Adventure: Part 1 is sponsored by Scholastic.
Lauren and the Reading Bug are back! Join them for an epic adventure into the Amazon rainforest to visit the lost city of Machu Picchu. The rainforest is full of secrets - and full of danger - but with the help of a new friend, everything is sure to turn out amazingly!
Books Mentioned in this Podcast
Non-Fiction:

$5.99

ISBN: 9780515159615
Availability: On Our Store Shelves Now
Published: Penguin Workshop - January 23rd, 2018
Built in the fifteenth century and tucked away in the mountains of Peru, Machu Picchu was abandoned after the Spaniards conquered the Incan empire in the sixteenth century. It remained hidden until 1911 when Hiram Bingham uncovered the marvelous complex and shared his discovery with the world. Today, hundreds of thousands of people visit the site to climb the 3,000 stone steps, explore the towering monuments, and see the numerous species that call these famous ruins home.
---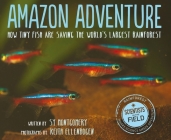 $10.99

ISBN: 9780358238393
Availability: On Our Store Shelves Now
Published: Clarion Books - July 28th, 2020
Sibert Honor winner Sy Montgomery explores how tiny fish living in the Amazon river, called piabas, can help preserve not only the rainforest and its often misunderstood inhabitants, but the fate of our entire environment. This installment in the Scientists in the Field series includes gorgeous full-color photography.
---
Other Great Books for You to Explore:
READING BUG ADVENTURES
A Story Podcast from The Reading Bug