Season 5 - Episodes 5 & 6 - A Steam Train Adventure
A Steam Train Adventure
All aboard for another exciting adventure with Lauren and the Reading Bug! Take a magical trip back in time for a trip aboard the luxurious 20th Century Limited train - on its route from New York City to Chicago - and meet some of its powerful and eccentric passengers! And watch out - someone aboard the train is stealing books (and book bags)!
Books Mentioned in this Podcast
Non-Fiction: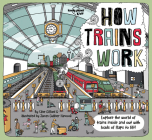 $18.99

ISBN: 9781788683289
Availability: On Our Store Shelves Now
Published: Lonely Planet - October 15th, 2019
All aboard! From the fastest to the longest, the oldest to the newest, through tunnels, across bridges and up mountainsides, take a fascinating ride through the world of trains in this brilliant new book from illustrator James Gulliver Hancock. In this follow-up to How Cities Work and How Airports Work, young readers travel through history and around the world to find out everything they ever wanted to know about trains. Unfold pages and lift flaps to reveal bustling stations, old steam locomotives fueled with coal, and high-speed trains zooming across Japan at almost 400 miles per hour!
---

$16.99

ISBN: 9791036313585
Availability: In Our Warehouse - Expected arrival in 2-5 days
Published: Twirl - February 4th, 2020
Discover the wonderful world of trains: Pull a tab to open train doors, life flaps to see inside a train car, or turn a wheel to see different types of trains. Chock-full of age appropriate information, this book is an exciting introduction for young train and transportation enthusiasts.
---

$7.99
Email or call for price.
ISBN: 9780753474983
Published: Kingfisher - June 11th, 2019
---
Other Great Books for You to Explore:
READING BUG ADVENTURES
A Story Podcast from The Reading Bug