Season 8 - Episodes 5 & 6 - A Superhero Adventure
A Superhero Adventure
Join Lauren and the Reading Bug on a super trip back to the shores of Hawaii, where a friend has a family secret to share. But when they discover the ocean is littered with trash, who is going to save the day?
Books Mentioned in this Podcast
Non-Fiction: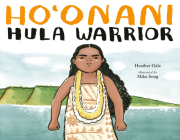 $17.99

ISBN: 9780735264496
Availability: On Our Store Shelves Now
Published: Tundra Books - October 1st, 2019
An empowering celebration of identity, acceptance and Hawaiian culture based on the true story of a young girl in Hawaiʻi who dreams of leading the boys-only hula troupe at her school.
---
Other Great Books for You to Explore:
READING BUG ADVENTURES
A Story Podcast from The Reading Bug