Season 3 - Episodes 9 & 10 - A Magic Adventure
A Magic Adventure
When The Great Bug-ini's magic tricks go awry, Lauren and the Reading Bug are visited by two new friends... from the magical land of New Alchemy! Join to help them get back home and save their school from an evil witch. But getting back may not be as easy as hopping into the book bag this time! We may need the help of a great and powerful magician.
Books Mentioned in this Podcast
Non-Fiction:

$5.99

ISBN: 9780448426860
Availability: On Our Store Shelves Now
Published: Penguin Workshop - July 22nd, 2002
Harry Houdini mesmerized a generation of Americans when he was alive, and continues to do so over ninety years since his death. This is a snapshot of Houdini's life, centering on one of his most famous feats. As Houdini prepares for a death-defying leap into the icy Charles River in Boston, biographer Jason Lutes and artist Nick Bertozzi reveal Houdini's life and influence: from the anti-Semitism Houdini fought all his life, to the adulation of the American public; from his hounding by the press, to his loving relationship with his wife Bess; from his egoism to his insecurity; from his public persona--to the secret behind his most amazing trick! And it's all in graphic form, so it's fresh, original, and unlike anything previously published about this most fascinating of American showmen.
---

$12.99
Email or call for price.
ISBN: 9781368042888
Published: Little, Brown Ink - September 24th, 2019
---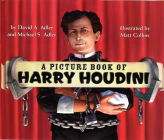 $7.99
Email or call for price.
ISBN: 9780823423026
Published: Holiday House - June 1st, 2010
---
Other Great Books for You to Explore:
READING BUG ADVENTURES
A Story Podcast from The Reading Bug