Season 4 - Episode 7 - A Reading Bug Adventure: Live!
A Reading Bug Adventure: Live!
Join Lauren and the Reading Bug and other characters for a special live episode, performed from The Reading Bug children's bookstore in San Carlos, CA. In this all-new adventure, the Spelling Bee has been captured by a villain from a past adventure and we have to jump back into several stories (and songs!) to save her.
Books Mentioned in this Podcast
Fiction:

$16.99

ISBN: 9781465487667
Availability: On Our Store Shelves Now
Published: DK Children - July 2nd, 2019
Bring a little magic into your life with this beautiful guide to the World of LEGO® Harry Potter(TM)! A world of wizards, witches and magic awaits! Meet all your favourite LEGO® Harry Potter(TM) minifigures and discover the secrets hidden within Hogwarts Castle. Relive memorable movie moments, including exciting Quidditch matches and spooky adventures in the Forbidden Forest. The beautiful cover with gold foil adds extra sparkle and makes this book the perfect gift for LEGO Harry Potter fans! Bring a little magic into your life with this essential companion to everything LEGO Harry Potter.
---
Non-Fiction:

$5.99

ISBN: 9780448488486
Availability: On Our Store Shelves Now
Published: Penguin Workshop - June 4th, 2019
Ladies and Gentlemen, children of all ages, step right up for Who HQ's entertaining biography of P. T. Barnum: politician, businessman, and The Greatest Showman on Earth! After moving from Connecticut to New York City in 1834, twenty-four-year-old Phineas Taylor Barnum launched his now-legendary career as a showman. Even though spectators debated whether his exhibitions were authentic wonders, hoaxes, or a little bit of both, they were always astounded by what they saw. And readers are sure to be amazed by the story of how Barnum went from owning a museum filled with rare and unusual items to transforming the American circus into a popular and thrilling phenomenon.
---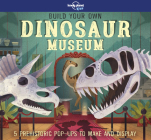 $18.99
Email or call for price.
ISBN: 9781788681285
Published: Lonely Planet - October 16th, 2018
Calling all dinosaur experts We need your help. We have just received a crate of dinosaur fossils - and they need assembling Fast Can you find the right room for each skeleton and build them in time for the museum's big opening? There are five pop-up dinosaurs to put back together, including a Triceratops, Stegosaurus and T-rex. It's going to be roarsome Lonely Planet's Build Your Own Dinosaur Museum is an activity book with a difference, where you get to play chief paleontologist. The museum rooms are ready, but there aren't any skeletons to display. It's up to you to figure out which one is which and where they need to go. Fun, interactive and with lots of facts to discover, this book is perfect for any dinosaur fan, budding biologist or model maker.
---

$6.99
Email or call for price.
ISBN: 9780486492582
Published: Dover Publications - November 21st, 2013
On a blustery afternoon in 1902, Jimmy and Clara Blair observe a strange kite in the North Carolina sky over Kitty Hawk Peninsula. They soon meet the kite's flyers, a pair of bicycle mechanics from Ohio named Orville and Wilbur Wright, and assist the inventors in realizing their dream of human flight. The We Were There series brings history to life for young readers with engaging, action-packed entertainment. These illustrated tales combine fictional and real-life characters in settings of landmark events from the past. All of the books are reviewed for accuracy and approved by expert historical consultants.
---
READING BUG ADVENTURES
A Story Podcast from The Reading Bug