Season 7 - Episodes 7 & 8 - A Horse Adventure
A Horse Adventure
Join Lauren, the Reading Bug, and the Spelling Bee on an amazing horse-riding adventure! But where (and when?) will your adventure be? Horses of all shapes and sizes are featured throughout history, but there's only one "horse capital of the world" - and that's in Kentucky!
Books Mentioned in this Podcast
Non-Fiction: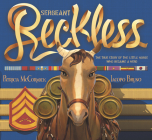 $9.99
Email or call for price.
ISBN: 9780062292605
Published: Balzer + Bray - September 15th, 2020
The inspiring true story of Reckless, the brave little horse who became a Marine.
When a group of US Marines fighting in the Korean War found a bedraggled mare, they wondered if she could be trained to as a packhorse. They had no idea that the skinny, underfed horse had one of the biggest and bravest hearts they'd ever known. And one of the biggest appetites!
---

$5.99
Email or call for price.
ISBN: 9780448483092
Published: Penguin Workshop - October 20th, 2015
In the middle of the worst depression in U.S. history, one young racehorse lifted a nation's spirits. Seabiscuit was born in 1933 on a farm in Kentucky. Though bred for racing, he was weak and undersized. He slept too long and ate too much. Against the odds, he began to win local races. He was given a new coach who trained him to race in larger circuits. Soon enough, this scrappy horse began beating the best racehorses in the country. He became a media darling and won national competitions. In 1938 he was voted U.S. Horse of the Year. Seabiscuit's undying spirit and come-from-behind story made him a celebrity and hero for millions.
---

$9.99

ISBN: 9781465451743
Availability: On Our Store Shelves Now
Published: DK Children - June 14th, 2016
This children's book shows how horses have played a pivotal part throughout human history. You will uncover the role of these majestic mammals, from the exploration of far off lands to their importance in wartime. Built for stamina and speed, horses have also been used to pull chariots, power engines, grind wheat, and spin cotton.
---
Other Great Books for You to Explore:
READING BUG ADVENTURES
A Story Podcast from The Reading Bug