Season 2 - Episodes 1 & 2 - A Dinosaur Adventure
A Dinosaur Adventure
A Dinosaur Adventure is sponsored by Familius
Season 2 Premier! Join Lauren and the Reading Bug on an all-new adventure to a time when dinosaurs roared and pteranodons soared! Will you see a triceratops, or parasaurolophus? Or maybe a mighty T-Rex (yikes!)? Hop into the Reading Bug's magic book bag for an historic adventure!
Books Mentioned in this Podcast
Non-Fiction: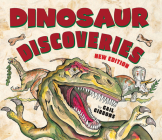 $7.99
Email or call for price.
ISBN: 9780823440092
Published: Holiday House - June 12th, 2018
This book provides young paleontologists with the most recent theories about the history of dinosaurs, plus amazing facts about dinosaur discoveries. Gibbons discusses the Triassic, Jurassic, and Cretaceous periods and many of the non-bird dinosaurs that lived during each of those times. Ages 5 to 8.
---

$6.99

ISBN: 9780375802966
Availability: On Our Store Shelves Now
Published: Random House Books for Young Readers - August 1st, 2000
This is an excellent nonfiction supplement to Magic Tree House #1: Dinosaurs Before Dark. Filled with up-to-date information, photos, illustrations and fun facts, it's the perfect way for dinosaur lovers to find out more about The Age of Dinosaurs. Ages 6 to 10.
---

$6.99
Email or call for price.
ISBN: 9780545685832
Published: Scholastic Paperback Nonfiction - December 30th, 2014
This book is a photographic nonfiction companion book to The Magic School Bus in the Time of Dinosaurs that expands upon the original title with updated content about all of the incredible extinct creatures from millions of years ago. Ages 6 to 9.
---
Other Great Books for You to Explore:
READING BUG ADVENTURES
A Story Podcast from The Reading Bug