Raymie Nightingale (Hardcover)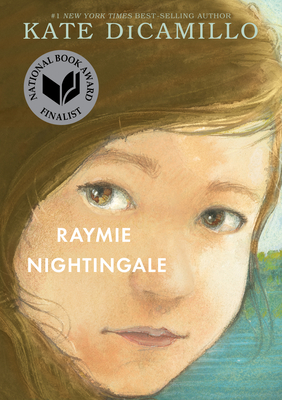 Staff Reviews
---
Raymie Nightingale is another great book by Newbery Award winning author Kate DiCamillo. Raymie Clark's father left home with his girlfriend two days ago, but Raymie has a plan to bring him home. When he reads that she has won the Little Miss Central Florida Tire Competition, he father will return for sure! When Raymie signs up for baton lessons for the talent competition, she meets two unlikely compatriots, Louisiana and Beverly, and their shared loneliness and loss draws them into an unforgettable adventure. Ages 10+.
— From
Staff Reviews
Description
---
A 2016 National Book Award Finalist Two-time Newbery Medalist Kate DiCamillo returns to her roots with a moving, masterful story of an unforgettable summer friendship. Raymie Clarke has come to realize that everything, absolutely everything, depends on her. And she has a plan. If Raymie can win the Little Miss Central Florida Tire competition, then her father, who left town two days ago with a dental hygienist, will see Raymie's picture in the paper and (maybe) come home. To win, not only does Raymie have to do good deeds and learn how to twirl a baton; she also has to contend with the wispy, frequently fainting Louisiana Elefante, who has a show-business background, and the fiery, stubborn Beverly Tapinski, who's determined to sabotage the contest. But as the competition approaches, loneliness, loss, and unanswerable questions draw the three girls into an unlikely friendship -- and challenge each of them to come to the rescue in unexpected ways.
About the Author
---
Kate DiCamillo is one of America's most beloved storytellers. She is the National Ambassador for Young People's Literature and a two-time Newbery Medalist. Born in Philadelphia, she grew up in Florida and now lives in Minneapolis, where she faithfully writes two pages a day, five days a week.
Coverage from NPR